ICT at Howard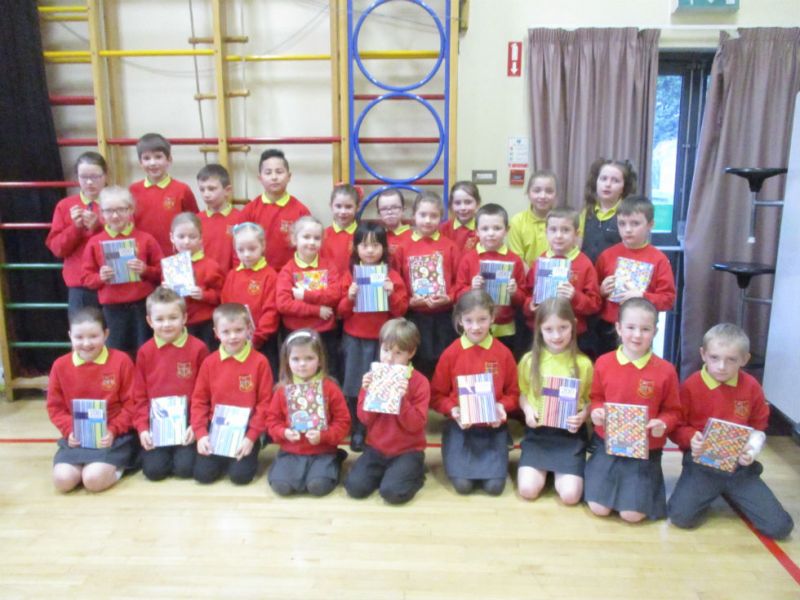 Winners of Internet Safety Week Competition.
P1-P4 enjoyed the story about the "Chicken Clicking" and drew pictures to remind everyone to stay safe online.
Winners of the KS2 Internet Safety Poster Competition pictured with their new memory sticks and a chocolate treat!
In Howard we place a great emphasis on the acquisition of ICT skills. ICT is used throughout all subjects of the curriculum. Pupils are provided with the opportunities to explore, express, exchange, evaluate and exhibit. All pupils are educated about Internet Safety and are regularly reminded of the importance of keeping their personal details safe.
It is essential that our children are ICT literate; accordingly we have invested financially in ensuring modern technology and software programmes are available to all our pupils. In all year groups teachers teach using integrated technology and pupils are required to complete ICT competency tasks. Pupils in Primaries Four and Seven will be awarded an end of Key Stage level for ICT. The school has invested in iPad training for teachers and have 45 iPads and apple T.V. In addition to this we use digital cameras, microphones, headphones, "talking tins" and Pro Bots and Bee Bots.
E-Safety
The School is not responsible for the content of external Internet sites. We recommend adult supervision for all links to external sites.
Howard Primary School & Nursery Unit , 2 Main Road, Dungannon, Co. Tyrone BT71 7QR
Phone: 028 87 722722